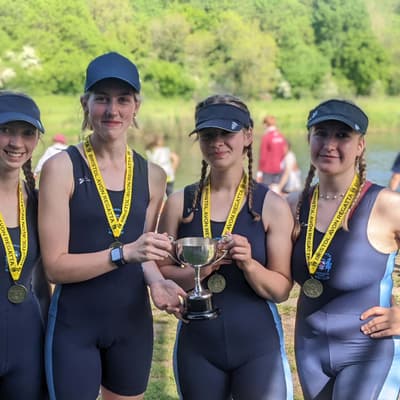 Junior Wye rowers headed to the River Avon where they caused a stir by winning no less than five trophies.
Rowers from Monmouth Comprehensive School came home with three pots from the Bristol Avon 1,000m Regatta in Saltford, while Monmouth School for Boys landed the J16 fours and Monmouth School for Girls' U14 quad scull a triumphed in their very first test.
Seren Van der Horst and Violet Holbrow-Brooksbank followed up victory at Evesham Regatta two weeks earlier with another fine performance, winning a close J16 women's sculls doubles finish by a canvas from top Thames club Maidenhead.
Full club teammates Beth Crossley, Laura Willis, Ella Miles and Megan Clifton put on a fine performance to beat Canford School by just over a length and Pangbourne by 2L in the final to win the J18 Women's Quadruple Sculls.
And Tom Powell followed up the singles victory at Evesham by winning the Men's J18 title with fine wins over Maidenhead, Christchurch by just over a length and Pangbourne by a distance in the final.
It was Tom's third win of the season having also won the junior quads at Evesham with teammates Jack Bufton, Elliot Lynch-Warden and Tom Coates, where Halle Unsworth and Harriet Morgan also won the girls' J18 doubles.
Back to Saltford. Monmouth School for Boys boat J16 of Will Latheron, Phillip Lawler, George Whittal-Williams, Ben Holley and helmsman Ben Jennery, comfortably beat Monkton Combe's B boat in their opener before taking the pots just a little more than one length of their boat A.
Monmouth School for Girls also launched four beginner quads in their very first regatta experience. And their top two boats stormed into the group final with victories over Avon and St George's before the A boat of Grace Jones, Lily Ebsworth, Ailsa Whitehead, Freya Berglund and cox Lily Shilcock took the title.
Further races saw Monmouth Comprehensive's U16 women's quad beat Pangbourne before losing in the final by 2L to Maidenhead.
Boys' J18 doubles George Knight and Jack Bufton beat St George's College before missing a canvas in Christchurch in the final, while Girls' J18 doubles Beth Crossley and Laura Willis lost by a length to Maidenhead and boys J15. quad Freddy Potts, Arthur Dennant, Robin Comben, Matt Fell and Keris McShane pushed Avon hard.
Monmouth School for Boys' four U18s beat Canford in their opener before losing to Pangbourne by 3L, while their two U14 quads narrowly lost to two Avon boats.
The school missed by 2.5L at Pangbourne in the U18 8, while the eight-time J14 and J15 both missed St George's.