Fort Leonard Wood Hosts TRADOC Best Warrior Competition | Item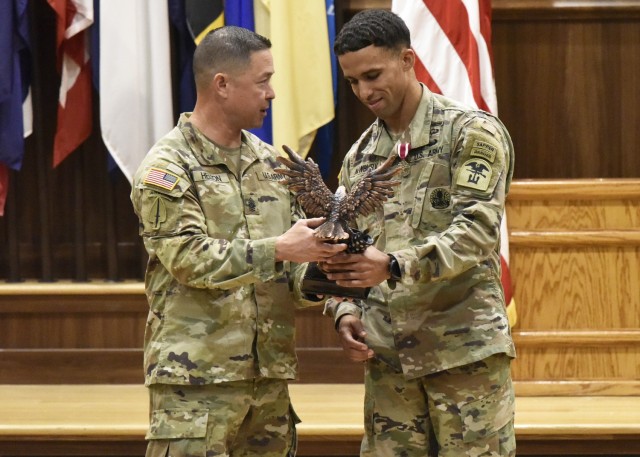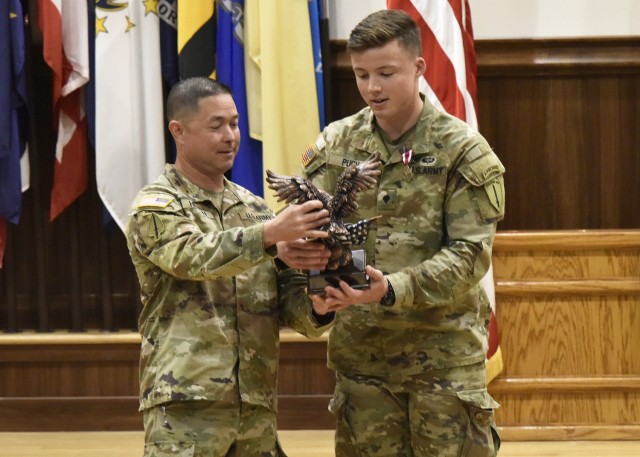 FORT LEONARD WOOD, Mo. – Fort Leonard Wood this week hosted the U.S. Army's Best Warrior in Training and Doctrine competition, where 24 NCOs and junior enlisted soldiers started on day one Monday and 16 reached the end – the two winners were announced on July 23 at a ceremony at the Lincoln Hall Auditorium.
Sgt. 1st Class Joshua Newbury, a chief sapper course instructor here, won in the NCO category, and Spc. Kaelan Pugh, a health care specialist with 5th Ranger Training Battalion, Fort Benning, Ga., Won in the junior enlisted category.
Throughout the 96 hours of competition, competitors faced physical and mental challenges as they performed marksmanship drills, obstacle courses, fitness events, medevac duties , a ruck walk, interviews and written exams – all designed to find the training and doctrine of the US Army. The best non-commissioned officer and soldier in command, according to Combined Arms Center Command Sgt. Major Steve Helton, who acted as host for the awards ceremony.
"The goal is for us to identify and validate the best NCO and junior soldier enlisted in TRADOC, and we believe we have done that," he said. "It's a really competitive process that requires each of these soldiers to be in good physical shape, have the stamina and mental motivation to persevere, and also pay close attention to detail and respect the rules. instructions."
Newbury said the level of competition was "very intense".
"Everyone was very competitive; everyone was in good physical shape; everyone seemed to have prepared at a high level, "he said.
Some things took him by surprise throughout the week, he said.
"(Compared to the Maneuver Support Center of Excellence Best Warrior competition in April) this competition didn't have as many detailed instructions," Newbury said. "It was difficult to interpret what you had to do and you had to make sure you could adapt to the task at hand. "
Newbury said there was a point where he doubted himself.
"I had a bad group and zero," he said. "I got over it remembering that the event was over and there was nothing I could do about it. I just had to move on and realize that I couldn't change what had already happened. You just need to focus on the next task at hand.
Winning the TRADOC BWC takes "100% dedication," Newbury said.
"You have to have the mindset to want to win – to understand that you're going to have to go hard. The saying of this competition was: "Go as hard as you can, do your best, as fast as you can", and that was not a lie. You really had to do that to stand out.
Pugh said he felt every competitor was highly motivated.
"It was very neck and neck," he said. "You just had to persevere in all the extremely difficult tasks. It got to a point where it wasn't just physical pain anymore, but it started to become this mental pain, where you had to face everything. "
To win, Pugh said you have to be able to deal with the pain.
"Any thoughts where you want to give up, you have to push them to the back of your mind and go on and remember the end goal," he said.
The junior competitor from Fort Leonard Wood has enlisted with the Sapeur Training Company, SPC. Terrel Rechsteiner, was vice-champion in his category. He said TRADOC "had increased the pressure" for this competition.
"There was a lot more walking; the rucks were very heavy – I think everyone felt it from day one, "he said. "It was very competitive. It was a lot of fun, but it really challenged me in so many ways. You can tell everyone who made it all the way through, trained and prepared for it and really went out of their way. You can tell they deserved to be here. All the while you knew you had to be on top of your game all the time. "
Helton called Fort Leonard Wood the "ideal location" to host a competition of the best warriors.
"The terrain is difficult; the weather is difficult; and the mentality here is combat oriented, "he said.
The competition was made possible, Helton added, with the support of more than 150 people from MSCoE.
"It could not have happened without this support," he said.
Newbury and Pugh will then represent TRADOC at the Army Best Warrior competition, which will be held in September in Fort Knox, Ky.
See photos from the TRADOC Best Warrior Competition on the Fort Leonard Wood Flickr page.