Fundraising Terror Trail Arrives in West Newbury Saturday | New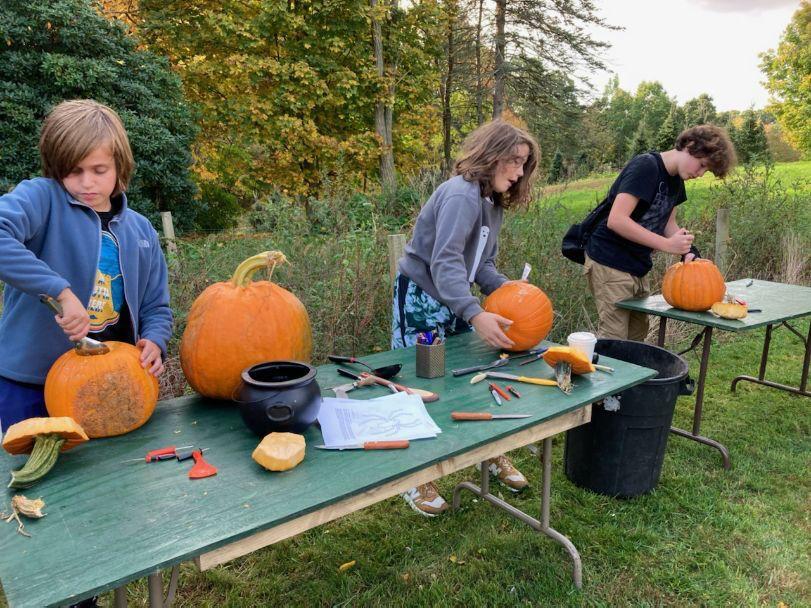 WEST NEWBURY – Witches and wizards were spotted circling Indian Hill Reservoir in anticipation of a good old-fashioned haunt at a nearby farm later this month.
The Pentucket Arts Foundation is hosting its first Terror Trail in partnership with farmer John Elwell of Maple Crest Farm. The nonprofit arts foundation is offering an evening of interactive performance art and spooky entertainment on Saturday from 6 p.m. to 9 p.m. at Maple Crest Farm, 102 Moulton St. The rainy date is Sunday. (The wrong departure time was reported earlier this week).
"It's scary season and if you like to be scared then you have to join us at Maple Crest Farm for one of the scariest experiences of the year," said Josef Allen, a regional high school in Pentucket. graduate member and founder who organizes the event with her colleague Julie Malchow.
Those who dare are invited to walk along a path lit by pumpkin lanterns in a wooded section of Elwell's farm, where, as Allen and Malchow describe, "some hapless campers" have been drawn into a cult. who worships "a flesh – the hungry spider queen and her children."
Volunteer actors from the community and high school portraying spooky characters from the appalling scenario will appear along the way to surprise and frighten hikers. A bonfire and covered seating area, plus concessions available for purchase await you at the end of the trek adventure.
Masks are encouraged but not required for this outdoor event. The trail itself can be difficult for people with limited mobility to hike, but everyone is welcome to gather around the bonfire and seating area to exchange spooky stories. Since the objective is to scare those who benefit from it, the foundation considers this event suitable for 12 years and over, parental discretion being advised.
A few talented volunteers from the community are needed to help with makeup to turn their neighbor-actors into horrid ghouls before the event. Anyone interested in helping out and being part of the spooky fun can register online at www.pentucketarts.org
Terror Trail tickets cost $ 10 and can only be purchased during the event. Cash or credit / debt accepted. Proceeds collected from foundation events support the arts in the Pentucket Regional School District. Free parking is available at the farm.
The Maple Crest farm dates back to 1729. The Elwell family purchased the property in 1917. John Elwell and his wife, Carol, took over the farm in the late 1990s and planted their first Christmas trees and strawberry plants in 2002 They have grown to include blueberries, raspberries, sunflowers, pumpkins and squash. They also welcome small groups in their pavilion.
The arts foundation began partnering to promote local farms in 2018 when they hosted the Spring Fairy Tale Hayride for preschool and elementary-age children and their families at Long Hill Orchard on Main Street.
The cart ride, during which participants are taken in a tractor-drawn wagon around the fields while watching brief vignettes of their favorite fairy tales performed by local actors, was canceled last year due to pandemic lockdown. The foundation hopes to bring it back next spring.
For the first time since its founding in 2003, the foundation will not host its popular A cappella party in November due to lingering concerns about COVID-19. Fans can look forward to his return in November 2022 in the auditorium of the newly constructed high school.
To stay up to date with art events at Pentucket, visit www.pentucketarts.org.
Terror Trail is supported by the Cultural Councils of Groveland, Merrimac and West Newbury.