Grant's Getaways: Paddling the Lower Columbia River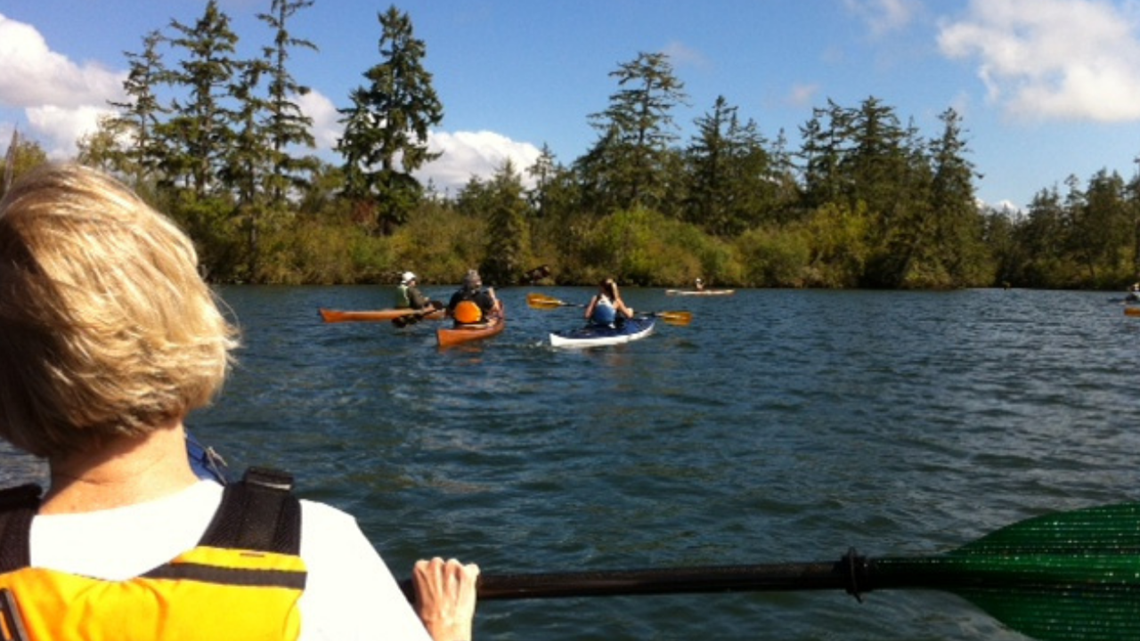 The nooks and crannies of the lower Columbia River offer paddlers a plethora of waterways.
ASTORIA, Oregon – On a clear day, the views atop Bradley State Scenic Wayside down to the Columbia River are breathtaking. Picnic tables invite a longer stay at this prime day-use site just off State Highway 30 near Astoria, but it's the river view that merits closer inspection.
So give in and try something new with the paddlers who gather to explore the swamps and islands of the Columbia River.
Steve Gibons is the lead guide for our small team of paddlers and said the nooks and crannies of the Lower Columbia River offer paddlers a plethora of waterways.
"At this time of year, you can't ask for better weather – cooler and milder," Gibons said. "So we're going to paddle upstream (from Knappa's wharf) and then cut out a special site in a Sitka spruce forest with some really big, very old trees. There are two easy-to-access swamps that will put us right in. the thickness of things. "
Blind Slough is certainly "the thickness of things", over 900 acres of soggy swamps with no access to land.
RELATED: Grant's Getaways: Flying Fish
Blind Slough is the last great intact forest of Sitka spruce and tidal swamps from the Columbia River, a habitat type that once stretched from Tillamook Bay from north to southeast Alaska. It is home to salmon, beavers, river otters, bald eagles and several other wildlife.
Fortunately, it had been protected by The Nature Conservancy since 1992, which then transferred ownership to the North Coast Land Conservancy in 2019.
The swamp is a braid of canals, separated by islands the size of an acre (or more). They are soggy places, reminiscent of some distant southern bayou, but also dense willows, alders and immense Sitka spruces. Some trees stand 200 feet or more and are 400 years or older.
The native vegetation is a jungle so thick that you can't walk the islands, but when you paddle the backwater swamps inside a stable kayak, with the weather and the tides in your favor, the trip is easy and enjoyable.
In fact, in this part of the Columbia River, dotted with dozens of islands separated by dozens of swamps, the boat is the only way to get around.
Gibons insisted that if you come to visit, remember that safety begins with a life jacket: "It is state law that you must have one in the boat, but it is our ruler and a smart navigation ruler that says you wear it at all times. "
Boating is the only way to enjoy the immense swamp forest that dates back to the 1600s. Gibons called the trees "absolute giants."
"It was the predominant tree in the coastal northwest 200 years ago," Gibons said. "The Sitka stands stretched all the way from the west coast to Alaska. Some of the trees grow to four feet in diameter, so having a stash like this is very special."
Historically, these areas were flooded each spring due to runoff from the Columbia River, so over time silt accumulated and the islands grew larger. Large old Sitka trees could take root and adapt to wet soil. Along the south shore of the Columbia River, water flows through the reserve all the time, making it a rich place for salmon, waterfowl, and large predators like osprey, bald eagles and even l 'bear.
When you visit I hope you feel like me, that despite being 80 miles from Portland you are in the middle of nowhere. There are very few places in Western Oregon that allow this feeling of escape and that is not lost on the other paddlers in our small group of paddlers.
"I've never seen anything like it anywhere else," said longtime paddler Bonnie Gibons. "It's the size of the trees, the stillness and just being able to enjoy the outdoors here is wonderful."
"I find it rejuvenating," Tracey Cole said. "I just feel younger going out on the water and it's not too far from home."
Of the many ways I have traveled Oregon, canoeing is the most intimate way to touch nature. It's easy and calm, and you never know what you're about to see: maybe an eagle perched in a towering spruce tree or a beaver or a muskrat cruising, maybe even a pond turtle lounging around. on a log in the hot, declining afternoon sun. Paddling offers time well spent in the Oregon outdoors.
To note: Blind Slough is only accessible by canoe or small boat. The tides here can be strong and so can the winds. Please respect the signage on private property and avoid wooden rafts. September and October are great times to visit Blind Slough.
Instructions: From Portland, travel west approximately 80 miles to Knappa Junction. Turn north at the Logger Café. In less than a quarter of a mile, turn right onto Brownsmead Road and travel approximately 1 mile to an intersection. Keep left and continue north towards the river. Cross a wooden bridge over the train tracks and walk about 100 meters to the Knappa docks for the launching of the canoes.
RELATED: Grant's Getaways: A Gem In The Raw
Be sure to follow my adventures in Oregon via the new Grant's Getaways Podcast:
Each segment is a storytelling session where I tell behind-the-scenes stories of four decades of travel and TV reporting.
You can also learn about many of my favorite Oregon trips and adventures in Grant's Getaways book series, including:
"Escapades I grants, Photograph by Steve Terrill
"The escapades of Grant II, Photograph by Steve Terrill
"Grant's Getaways: 101 Adventures in Oregon, Photograph by Jeff Kastner
"Grant's Getaways: A Guide to Wildlife Viewing in Oregon, Photograph by Jeff Kastner
"Grant's Getaways: Adventures in Oregon with the Kids, Photograph by Jeff Kastner
The collection features hundreds of outdoor activities across Oregon and promises to be of interest to a child of any age.
My next book, "Grant's Getaways: Another 101 Oregon Adventures" will be published in 2022.
LOOK: Grant's Getaways | YouTube Playlist