ISG to undertake Tempo project Maidenhead, Berkshire, England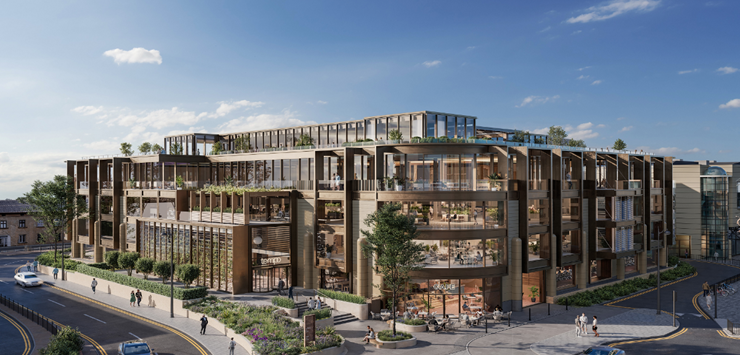 Legal and General Investment Management (LGIM) Real Assets has selected ISGa private construction company based in London, UK, formerly known as Interior Services Group, for the implementation of the Tempo project in Maidenhead, a market town in the Royal Borough of Windsor and Maidenhead in the county of Berkshire , in England.
The project will regenerate a 1.4 acre site on which a 112,000 square foot former office sits in a completely renovated commercial destination, providing an additional 21,500 square feet of space, with new common areas and green infrastructure, placing people and sustainability at the heart of the new building.
Tempo Maidenhead Project Scope of Work
Look for construction leads
Under the terms, the scope of work includes the complete demolition of the current four-story building to create a sustainable workplace while focusing on the occupant's travel experience. Residents will benefit from creative and outdoor spaces with interior atriums, as well as the inclusion of three rooftop pavilions and rooftop terraces, totaling 11,000 square feet of biodiverse space.
Also Read: United Artists Building Redevelopment Set to Begin Soon, Detroit
Expected to be one of the greenest structures in the Thames Valley, the Tempo project will favor retention and reuse principles rather than a complete demolition and new build approach. The restoration will retain the majority of the current stone exterior while adding a modern glazed facade to the appearance of the building.
Using the Design for Performance approach, the project is aiming for a BREEAM "Excellent" rating on completion, as well as net zero carbon operation, with a total building energy consumption of 130 kWh/m² (GIA)/year. Its roof will house energy-efficient technologies such as more than 5,000 square feet of rooftop solar panels and air-source heat pump technology, which will lead to a 39% reduction in carbon emissions.
The Tempo project aims to achieve the highest energy efficiency rating – EPC A and BREEAM Excellent, which will make the building one of the greenest working spaces in the Thames Valley.
Expectations for the Tempo project
The Tempo project will show how world-class workspace and amenities can be delivered through a retrofit approach to existing facilities, repurposing and upgrading what already exists to reduce embodied carbon and maximize operating energy efficiency. continuously for its users. This development, located in the heart of Maidenhead, is contributing to the growth of the area and helping it work towards a more sustainable future.
The project, which is being carried out by the Workplace team at ISG Construction South, demonstrates the high levels of ESG credentials and build quality that we are committed to delivering to our clients along the M4 corridor in the counties of London Homes, Thames Valley and Bristol.