Members of Newbury Extinction Rebellion in London to protest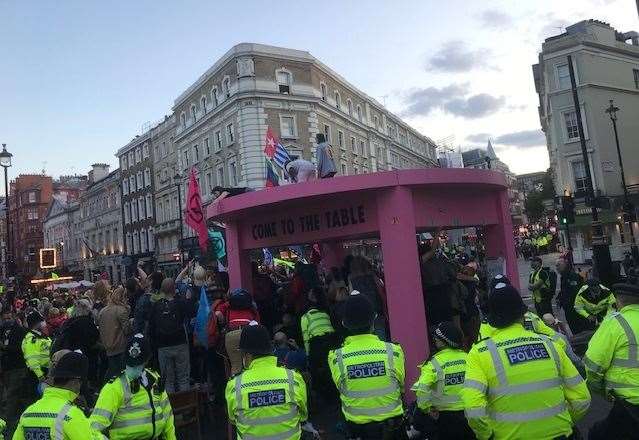 Extinction Rebellion activists from across the UK converged in London's Covent Garden on Monday and members of Newbury were among those demonstrating against climate change.
Protesters have chained themselves to block one of the region's busiest intersections, as part of a new round of planned protests targeting London.
One of Newbury's protesters, Lisa Hill, remained motionless in Covent Garden all day in defiance of one-way police lines, which prevented those leaving the area from returning.
Ms Hill said: 'As floods, fires and famine erupt around the world, it is clear that climate degradation is here now and there is no choice but to take action. urgent.
"Everyone deserves a place at the table to have a say in how to deal with the greatest crisis of our time. "
Another Newbury activist, Claire Willsher, said: "We just want to highlight the desperate need for climate action on the part of governments, businesses and people across the world.
"The recent and very important report of the Intergovernmental Panel on Climate Change clearly shows that we are running out of time to make a difference.
"I am terrified for the future of our children."
---
---