Newbury pantry moves to temporary location | Local News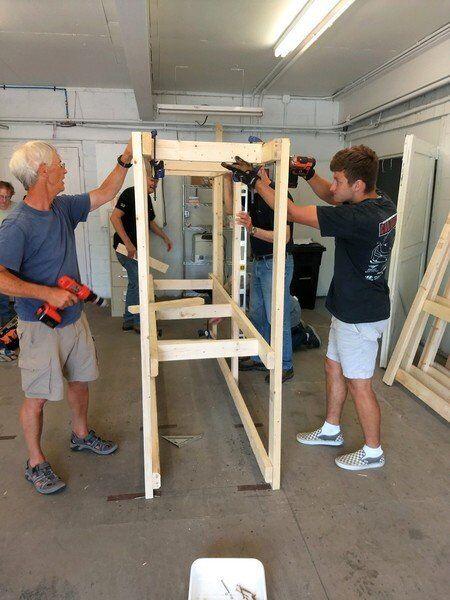 NEWBURY – More than 50 volunteers, including a moving team from Haverhill, helped move the First Parish Newbury Food Pantry to a temporary location at 89 Hanover St. on Saturday.
Volunteers spent the weekend painting the floors, assembling wood and metal shelves, packing and moving food and other supplies from the church to the new space.
Mary-Jo and Bruce Anderson have donated space in their rented garages on Hanover Street, while a new pantry building is being constructed behind Newbury's First Parish Church at 20 High Road. The hope is that the building will be completed by next spring.
During the COVID-19 pandemic, the pantry expanded its space to use the entire church sanctuary, but this was only possible because the church was hosting services through Zoom. Now, as more and more people get vaccinated, the church is returning to worship in person.
Ace Cleanouts of Haverhill donated a truck and crew to help move everything to the temporary quarters, free of charge.
Jane Merrow, co-founder of The Pantry, was especially grateful, explaining how helpful this aid was with moving refrigerators and freezers.
"We have been working all week to try to make everything as transparent as possible and continue to serve the pantry," she said in a telephone interview.
"It was hard work in the hot weather, but everyone was smiling," said Glen Holt, the volunteer who organized the move, in a statement.
The Pantry, which now operates at 89 Hanover Street, opens every Friday, typically serving between 250 and 300 people through food deliveries or pickup.
About half of the people served by the pantry live in Newburyport, followed by 20% in Newbury, 9% in Salisbury, 8% in Rowley, 2% in Ipswich, 2% in West Newbury and the remaining percentage in adjacent towns. .
Donations of food and other supplies can be dropped off on Thursdays between 9:30 a.m. and 1 p.m.
Side dishes like rice, pasta and broth are always needed. Paper products and toiletries are also popular.
According to the Greater Boston Food Bank, one in 10 neighbors in the pantry service area does not have a reliable source of healthy food.
"Having a source of fresh produce, dairy, frozen meats and fish, dry goods and personal care products every week makes a huge difference in the health and quality of life of our customers," Merrow said. in a press release.
Although the Pantry is currently operating at Hanover Street, the mailing address will remain at High Road. To donate cash, write a check to First Parish Church Food Pantry and mail to 20 High Road, Newbury, MA 01951.
To purchase food, place an order in advance either online or by calling 978-358-1077 between Wednesdays at noon and Thursdays at 7 p.m.
For more information visit www.newburyfoodpantry.org or email info @ NewburyFoodPantry.
A previous article on the move is available at https://www.newburyportnews.com/news/local_news/as-newbury-church-reopens-food-pantry-moving-to-temporary-quarters/article_e7b93baf-c64b-526e- a171 -2eb8b7473902.html.