Salisbury Police Honor Lieutenant and K-9 | New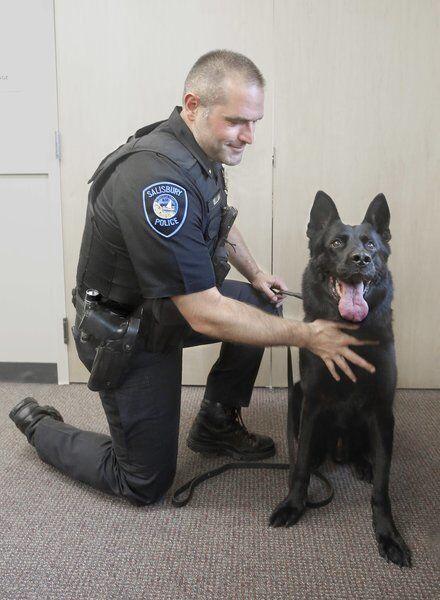 SALISBURY – A pair of Salisbury's best were celebrated in a special retirement and medal ceremony at Police Headquarters on Friday afternoon.
K-9 Officer Herc received his official retirement on Friday – after 7.5 years in the force – while his partner, Lt. Richard Dellaria, received the Department's Medal of Valor.
Dellaria responded to a car fire on Reservation Road on May 22, according to Police Chief Thomas Fowler.
"A car came off the road and hit a tree and caught fire," Fowler said. "Rich was the first one there and there was a semi-conscious driver in the car. Rich got in there, he cut the seat belt with his own knife and physically dragged the guy away from the car for a while. that it was burning, saving his life. "
Dellaria and Herc date back to the start of the Salisbury K-9 program in 2013, established with a grant from the Stanton Foundation. Dellaria was in partnership with Herc, a Czechoslovakian German Shepherd. Herc began his tour of duty on January 2, 2014 and has participated in 400 deployments. The 9-year-old has carried out more than 2,300 patrols.
Herc also assisted patrol units in fighting, vehicle chases, domestic assault cases, bank robbery investigations, and the search for suspects who had fled at any time of the day or night. He also responded to numerous requests for aid from surrounding towns, including Newburyport, Newbury, West Newbury, Amesbury, Merrimac, Groveland and Seabrook.
Herc was trained in patrol skills, drug detection, and participated in Kindergarten to Grade 9 police demonstrations for elementary school students.
"Although he was a serious and very efficient police dog, he was still a very social dog," said Fowler. "It was always good to have around the station."
Dellaria was promoted to lieutenant last fall and will no longer be able to go out on the streets daily with Herc, who will be retiring with his partner.
"It's been a great eight years with Herc," Dellaria said. "It was fun. I feel totally fulfilled and this is probably the best assignment I have ever had."
The crowd of around 40, including chief executive Neil Harrington, the board of directors, police officers, family and friends, applauded Herc – who responded happily on Friday afternoon.
Fowler said Herc was a big part of the Salisbury Police Department.
"I'm not a big pet myself, but it was quite fun having Herc upstairs, checking my trash and climbing on the couch," Fowler said. "He comes straight into my office and makes himself comfortable, but it's been fun."
The Salisbury Police Department's K-9 program will continue with a new dog, Chapo, and his partner, Officer Mike Tullercash.
Editor-in-Chief Jim Sullivan covers Amesbury and Salisbury for The Daily News. He can be reached by email at [email protected] or by phone at 978-961-3145. Follow him on Twitter @ndnsully.