The memoir of West Berkshire naturalist writer Nicola Chester is inspired by his love for the environment and his firm belief in standing up for it.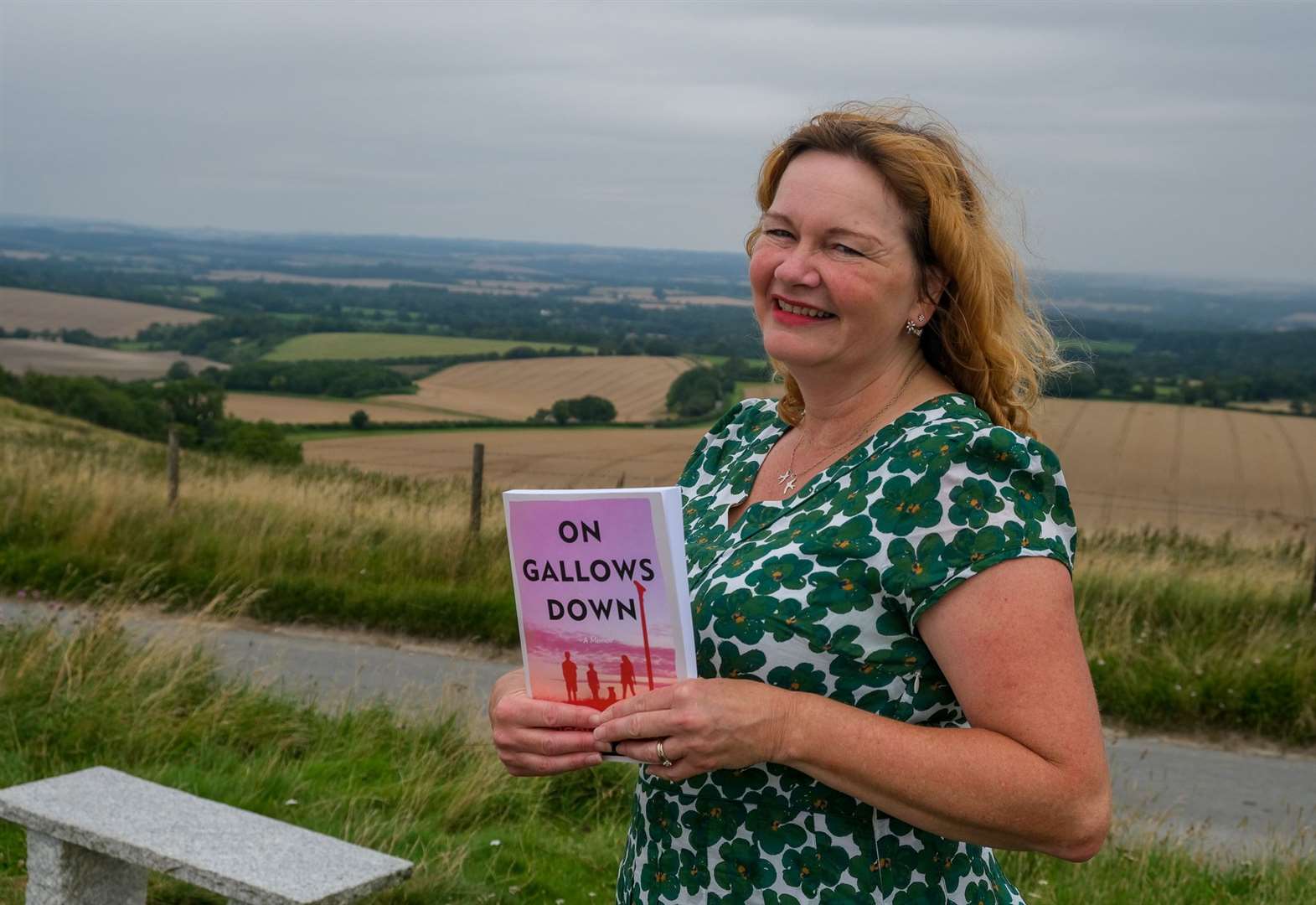 Nicola Chester is an Inkpen award-winning nature writer whose first book On the gallows is released in October.
She won the BBC Wildlife ReviewNature Writer of the Year Award in 2003 for an article on Greenham Common and written for the Guardian, the RSPB, Countryfile, Countryliving and write nature notes for the Newbury Weekly News.
Nicola shares her journey and her love of writing and nature, as well as her inspiration and motivation for On the gallows with EMMA COLE
Nature has played an important role in Nicola from an early age. As a child, she traveled a lot with her parents, but always in the North Hampshire and West Berkshire areas.
As soon as the family arrived at a new place, her mother would take them out on the trails with the dogs to explore their new home and these early experiences with nature continue to influence her.
Nicola said: "I think my love for nature comes from my childhood. Everywhere we lived we found nature, we found woods and we explored them and most of all loved being there.
She has now lived in Inkpen for 17 years and has a 19 year old son and two daughters aged 17 and 13. For children, nature has played a key role in their education.
"We had never been on vacation abroad, instead we would go for a walk in nature, through the fields, up the hill and explore the trails. It sounded a bit cliché, but when I think of my children, it was the hill that raised them.
Nicola regularly goes out for walks and to explore. Her favorite trail is up Gallows Down, starting at Inkpen and heading towards Combe Gibbet.
"Every day is different. You can go up there and not see anybody or see a lot of people. The view can stretch for miles or you can be in this hazy world where everything is below you and I love it.
Indeed, the coverage of On the gallows is a photograph taken by Nicola of her three children and her dog by Combe Gibbet.
Throughout her life, Nicola has always written stories and described herself as a 'real bookworm', but a turning point came when she protested against the construction of the Newbury bypass in 1996.
"I was angry and upset. I had all of these words in my head and was ready to speak to a Radio 4 interviewer, but the moment he put his mic under my nose, I froze and the words didn't come out. I remember thinking I had so much to say, I want to change people's opinions and make them feel how I feel, but I couldn't. I just completely dried off.
Nicola went home and furiously noted her thoughts. She hasn't stopped since.
On the gallows Originally intended to be a writing about nature, but evolved into a personal piece, clustered around the natural landscape in Nicola's life, an enduring love of nature and the fierce desire to protect it, as well as the history of the rural working class and family life in a cottage on the estate.
The book is filled with sweet protests and hope, which are neatly tucked away in familiar landmarks such as Watership Down and the Highclere Estate. It starts with the rewilding of Greenham Common and a reflection on the Greenham Common Women's Peace Camp, then moves on to the Newbury Bypass manifestation and other environmental battles along the way, vaguely portraying Nicola's children. who grow up.
"The whole point of my writing is to engage people with nature, to move them and make them want to protect it. With On the gallows I just felt like I had this story to tell that tied everything together.
"I believe a lot in connecting and linking things together, and the ultimate way to do that was through this book. It's a memory of a place and a need to find a home, and to show the ownership of a place you don't own At the heart of the book are nature, family and home.
On the gallows is full of powerful images, including a memorable encounter with a herd of deer.
"I was living alone with an 18 month old baby in an isolated cabin because my husband had been called to Iraq. I spent all my time walking outside and one day, as I was walking in a wood, a huge herd of deer came galloping towards us on a narrow promenade.
"They were huge animals with very big antlers. We stood completely still as they rushed around us. It was amazing to experience but also terrifying at the same time. I remember coming home. me and for trying to say how exciting and visceral it was, I could smell their breath!
A big influence on Nicola's writing was Thomas Hardy who himself rode Gallows Down.
"I read and loved his books and giving him a modern voice would be a wonderful goal to achieve. I think he shows the rural countryside in a way that's warty and all, yes it's beautiful but there is also poverty and hardship.
Her book lasted eight years, as Nicola still wrote in "the gaps of life," balancing her work as a writer with her children's education and other jobs.
In addition to writing for many different magazines, Nicola is a librarian at John O'Gaunt School in Hungerford, a job she enjoys tremendously.
"The library is a fantastic place. It's not just about books, but about ideas and digital information literacy, and a real flow of that is happening among students. It's almost as if anything could happen in there.
Access to books and to nature are causes very dear to Nicola.
"The wildlife crisis and the climate crisis go hand in hand with the issue of equal access to nature. Currently we only have access to eight percent of the countryside in England and three percent of rivers and riverbanks, and less than one in ten children play in natural spaces on a regular basis, which is shocking. We can't tell people that we have to save our planet if we don't give them access to the countryside.
Notably, when Nicola first presented the book to publishers five years ago, she was told that no one really knew what environmental protest was.
Since then the feeling has changed and On the gallows has become more poignant and relevant than ever.
Nicola is now busy writing articles for various campaign magazines, but hopes to write some more poetry with a novel based on the history of the area.
She is also convinced that there will be a sequel to On the gallows.
For aspiring writers, Nicola has a great tip: "Read as widely as you can, about anything and everything, and write what you love as if no one else would ever read it except you."
On the gallows releases October 7 and is available for purchase at any bookstore and on Amazon. It will also be available as an audiobook.
There is a book launch at the Hungerford Bookstore on October 9, which will include a signing, reading and interview with Nicola.
Tickets will be available at www.hungerfordbookshop.co.uk/our-events for more information click here.
---
---