The wrapping of the NWN Over 80s Parcel Fund took place at Sainsbury's as volunteers prepare to deliver Christmas parcels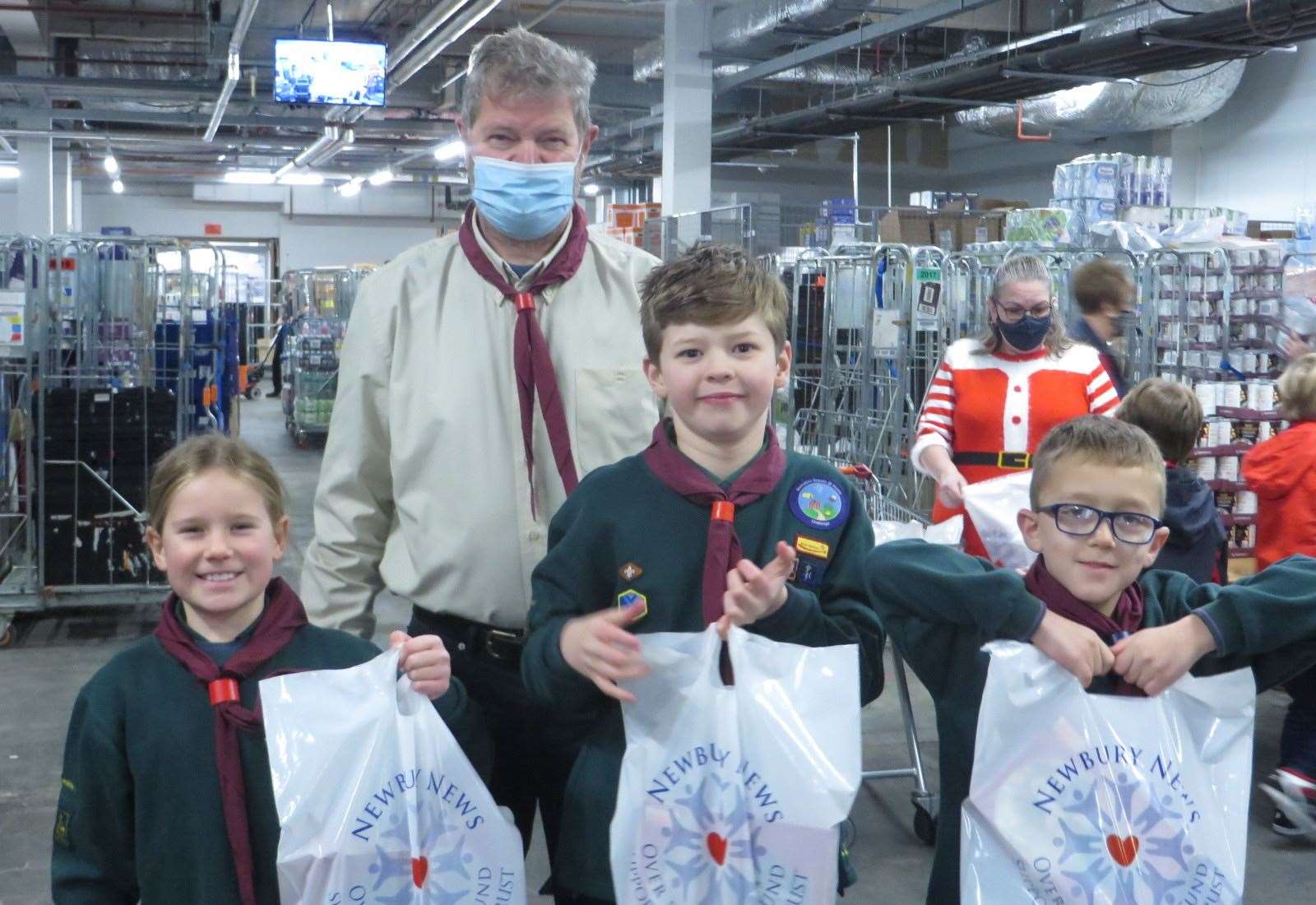 Christmas is approaching and the wrapping of the NWN Over 80s Parcel Fund has taken place.
On Sunday November 28, Newbury's Sainsbury's store welcomed groups of teddy bears from across the district as they all helped pack Christmas packages.
As of 9.45am Mo Osborne, who has been involved in Cub groups for many years, was in charge of organizing all groups. Covid-19 added the added stress of social distancing and the reduced number of people allowed to pack at any time.
Jo Fulker, Parcel Fund Coordinator, said: "The Over 80s packages, supported by Greenham Trust, were packed and our thanks go to Sainsbury staff, Carol Irwin, the PR Ambassador, as well as many others. who very kindly devoted some of their free time doing all the packing this year, with the cubs from 1st Inkpen and Kintbury, 4th Newbury, Greenham, 1st Wash Common, 3rd Newbury and 1st Woolton Hill packing so quickly and efficiently that the job was completed in just over two hours.
"Our thanks also go to Welford and Wickham as well as 2nd Newbury and 1st Newbury who also showed up to help only to find that the job had been completed in record time.
"We would also like to thank Sainsbury's who, despite everything this year, helped us achieve what Newbury Weekly News has been doing since 1897, namely remembering the elderly residents of West Berkshire."
The Newbury Weekly News Over 80's Christmas Parcel Fund has been bringing a bit of Christmas cheer into the lives of many senior citizens of West Berkshire for over a century now.
It started as the "Two T's Fund", when reporter Frank Stillman thought it was a good idea to support the elderly in the work house, or what was known as "The House on the House". Hill ", with tobacco for the gentlemen and tea bags for the ladies.
Today, the Parcel Fund is not means tested, because money is no barrier to loneliness, and as times have changed so much over the past 100 years, we are now sending the parcels. only as a seasonal thank you from the whole community; a way to say thank you to the recipients for everything they have done in their lifetime, and to make sure they know they are not forgotten by their local community.
The 1,900 packages that have been packed have been in storage in the Sainsbury store for almost a week now and are ready to be sent tomorrow (Friday) to our distribution centers, where we have more volunteers ready and waiting to deliver them. around Newbury, Thatcham and Hungerford and many local villages to our deserving residents.
If your name is on our list, be sure to watch out for the really nice people who want to ensure you have a very merry Christmas, which we all certainly deserve this year.
Fundraising for the Parcel Fund also continued this weekend, when Newbury Mayor Billy Drummond hosted a morning coffee at Newbury Town Hall.
Saturday's event, held between 10 a.m. and 12 p.m., raised an additional £ 300 for Sainsbury's food bill.
Town Crier Brian Sylvester was also stationed outside City Hall, calling on people for coffee.
"Our thanks go to everyone who helped that morning to serve the coffee or to come and drink the tea and coffee and taste the delicious homemade cakes," Ms. Fulker added.
We are delighted to announce that this year Greenham Trust is still funding donations made to The Over 80s Parcel Fund through The Good Exchange and for every £ 1 donated online Greenham Trust will also donate £ 1 for a Christmas parcel.
If you would like to donate, go to: https://app.thegoodexchange.com/project/18393/newbury-weekly-news/newbury-weekly-news-over-80s-parcel-fund
Everything is certainly happening here now at Parcel Towers, so be sure to keep an eye out for Newbury Weekly News and newburytoday, especially next week when all the fun is in.
---
---